CRUISING JOURNAL is an editorial project started in 2018 after a long experience in the maritime cruise industry and with a vast knowledge of the sector. This knowledge was gained through various projects for the creation and launching of web-based companies in the cruise industry, participation in commercial campaigns, direct participation in the planning of cruises and taking part in cruises themselves.
The rapid expansion of our team of prestigious collaborators in the field of Cruising, with different skills, areas of work expertise, nationalities and specializations, has permitted us to widen our readership. We now have a group of international users that is constantly growing and who demonstrate a high level of interest and participation in Cruising Journal, not only on our website but also on our social media channels.
A large and complete cruise ships catalog
The Cruising Journal website features more than 70 cruising companies and more than 500 cruise ships, with a wealth of technical data, news, and descriptions that is constantly being updated. This has led to the website becoming, in a very short amount of time, a point of reference for technical information, fun facts and a source of constant learning for those working in the sector.
Over 70 cruise ship fleets, more than 500 ships, 100 Partners worldwide, thousands of Reviews.
A wealth of reviews: real user feedback
Cruising Journal is a fixed point of reference for cruisers both before, during and after their trip. The in-depth review system, which is edited and monitored by statistical experts from the Universities of Siena, Stockholm and St. Petersburg, represents, to date, the most complete and advanced system not only in the cruise sector, but in general in the field of form processing for opinion polling.
The balanced and real Reviews constitute a source of information for cruisers who need to choose a cruise for themselves, get advice and useful information, or discover which ship or itinerary is best suited to their needs. On board and after returning, these same cruise passengers will in turn contribute to providing information and opinions by compiling their own reviews.
Reviews, Photos, Videos: come on board the ships
Cruising Journal contains hundreds of in-depth Reports of single cruise ships as well as photo albums and video tours. A wealth of media material that contributes to spreading knowledge about ships and cruise ship companies to the public and cruise ship industry workers. Another important component of our work is to raise awareness about the various companies that make up the diverse universe of cruises.
A careful and selective editorial staff
The world of cruising today is vast and complex. There are many secondary activities involved in the cruising sector, from building to itineraries, from changes in services to continual innovation. Cruising Journal, from the very beginning, has followed an editorial plan of carefully selecting news and updates, attempting to stay relevant and keep its users interested and curious.
Over time this has proven to be a winning choice, having developed a large following especially in the area of news about lesser known companies and about unique aspects of cruising as well as firsthand reporting of events and the most important news.
Journalists, bloggers, professionals and enthusiasts: a Team made up of experts from around the globe who every day play their part by writing news, articles and in-depth profiles. These are all composed and translated exclusively by native speakers of each of our 6 featured languages.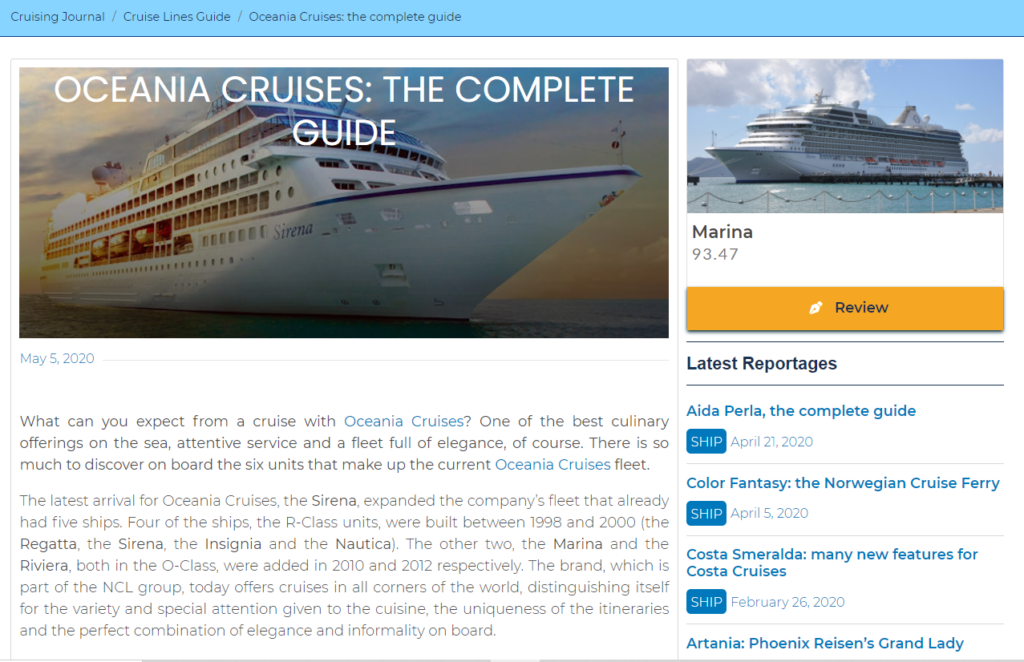 Finding the "ideal ship": search by destination or personalized criteria
Cruising Journal has a search engine for cruises based on destination and date cross-referenced with ship scores for various criteria. This allows users to find the ships and companies which are most suited to their needs, in the time period they are interested in cruising and for their desired destination.
This is truly a one-of-a-kind system on the global market and is increasingly valued by the companies that collaborate closely with us. The search for a ship based on personalized criteria, such as for families, excellent food, and good entertainment among others, mirrors the philosophy of Cruising Journal perfectly. Our philosophy is that there aren't simply good or bad cruise companies and ships to choose from but instead each person can find their ideal ship if they are supplied with the right knowledge at the time of choosing, which is exactly what we aim to do.
The wealth of data that Cruising Journal draws on is unique, as it is created from all the thousands of reviews submitted directly by our users. The search for the ideal ship, therefore, emerges from the real opinions of cruise passengers, not from our editorial staff or that of the cruise lines.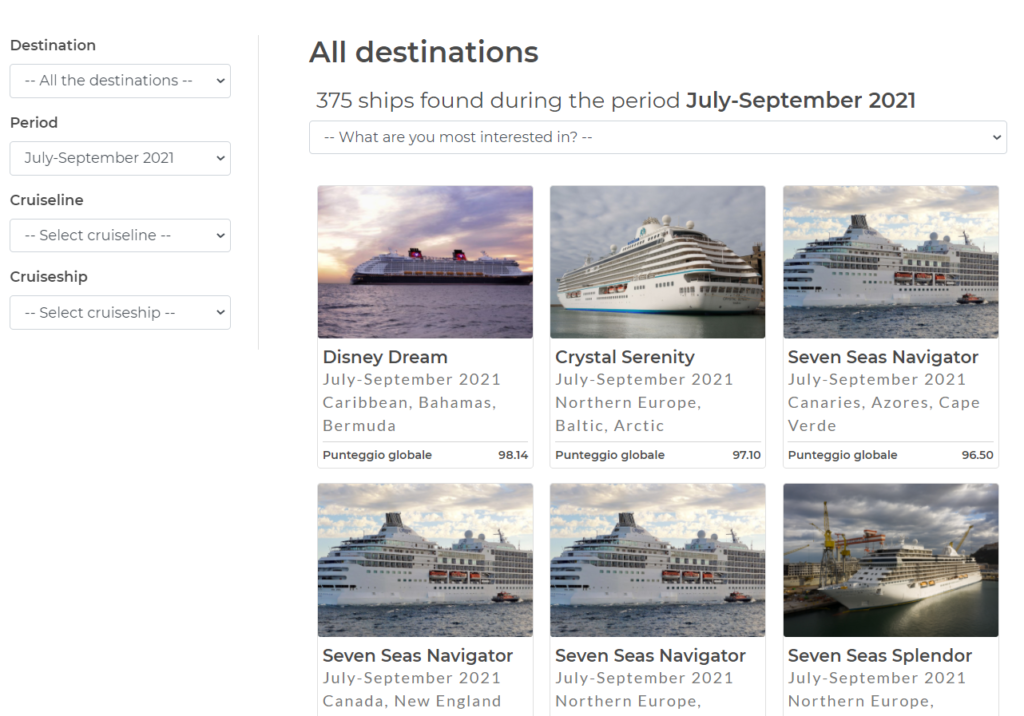 Professionalism and passion: a dynamic and international team
Cruising Journal has always been based on an idea of international collaboration, open to any type of collaboration or partnership. We truly believe in the cruise ship product and in its many varieties and our philosophy is that each cruise company has something different and unique to offer. At the same time, we believe every website, social media channel or individual has something unique and different to offer. Cruising Journal aims to collaborate and dialogue about these differences and never act as an antagonist.
From this idea our international Team has emerged, made of passionate and hardworking members who contribute to the site with dedication and a desire to share: 24 nationalities, 13 languages (although appearing in just the 6 official website languages), 85 social media channel partnerships, more than 15 websites, 30 connected Instagram pages, and 25 exclusive Cruising Journal Facebook pages. These are just a few of the numbers that represent the complexity and editorial organization of the Cruising Journal portal.
The Cruising Journal for Business project was created later thanks to the commitment of the editorial staff and the requests received. Naturally the website collaborates with professional figures such as statisticians, lawyers, travel agents, entrepreneurs in the tourism sector, programmers and computer scientists, economics and financial experts.